Welcome to the TDC Teacher Projects page!
---
Below is a sample of projects created by teachers who successfully completed the TDC course. These projects demonstrate how they created engaging and useful out of class learning opportunities for their students.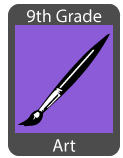 Color Theory (Susan Ancheta)
Part I: Color Properties
This video introduces a series of videos on color by exploring color properties. The video includes an explanation of basic color with additive color, subtractive color, hues, and values.
Part II: The Color Wheel
In this second part of her series of videos on Color Theory, Susan Ancheta reviews the color wheel.
Part III: Color Schemes
This final video in the series on Color Theory introduces color groupings and color schemes based on the color wheel.
Notes on the Staff (Sarah Miller)
Educreations Presentation
This presentation introduces the names of the notes on a musical staff. It reviews the bass and treble clefs and the note series EGBDF, GBDBA, and ACEG.